ETSU Health partners with Healing Hands to provide additional healthcare to low-income, uninsured adults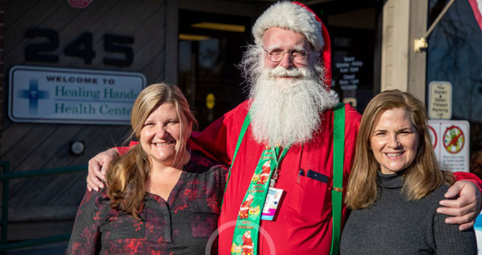 ETSU Health's Family Medicine Bristol clinic joined with Healing Hands to provide additional health care to uninsured or low-income individuals in the Tri-cities. Healing Hands is a charitable medical and dental clinic based out of Bristol that provides care to adults in the region.
ETSU Health says they began sending their providers to Healing Hands each week to give additional help to patients in need. Along with helping those with low-income receive health care, Family Medicine Bristol's Program Director, Dr. Laura Helmly, says the partnership benefits providers, too, as some are still pursuing residencies for a degree. More info here.
PHOTO: Left to right: Dr. Amanda Stoltz & Dr. John Culp, ETSU Health physicians; Helen Scott, Director of Healing Hands.
(Image: ETSU Health)