AG: Head of Virginia Parole Board placed lives in danger with 'parole-frenzy'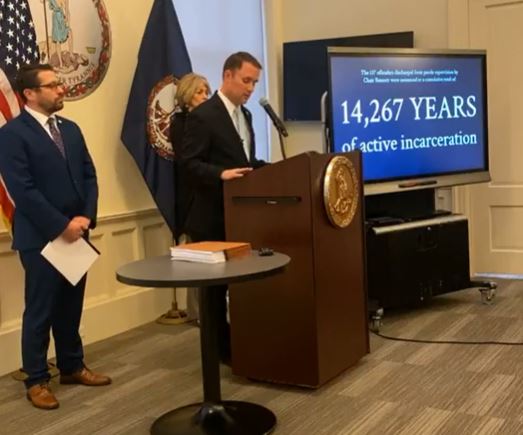 Potential criminal charges are not anticiapted against the former head of the Virginia Parole Board following the release of a year-long study into the agency's operations during the Ralph Northam administration on Wednesday.
"Frankly, the answers that we found in this parole board investigation were actually worse than we thought," said Attorney General Jason Miyares at a press conference announcing the findings.
Miyares said the actions of former parole chair Adrianne Bennett put Virginians in danger with dozens of violations including no formal communication with victims or local prosecutors on the release of dangerous criminals granted parole by violating state law and board policies.
The attorney general also said Bennett's office cut offenders loose from probation supervision including 19 convicts who were discharged by using false names on state documents.
The complete report is available for review by clicking here.
(IMAGE: Attorney General Jason Miyares flanked by Assistant Attorney General Chuck Slemp of Wise County held a press conference Wednesday to release the findings of a commissioned study into the activity of the Virginia Parole Board. / Commonwealth of Virginia – Office of the Attorney General / Official Facebook)