Racks By The Tracks Festival
May 13 @ 11:00 am

-

8:00 pm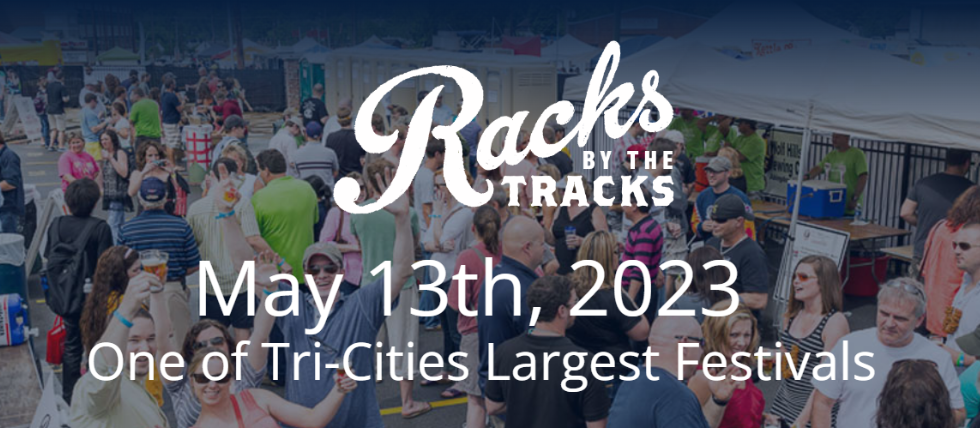 One of the region's most popular festivals, Racks by the Tracks, returns to the Kingsport Farmers Market May 13th to celebrate its 15th year. This year's festival will feature the original Tri-Cities' tasting event, a BBQ competition, the Racks by the Tracks 10K and 5K Race (featuring the Boss Hog Challenge) and plenty of great music.
Entertainment on the Honda Kingsport Stage will feature headliner, The Crue – A Motley Crue Tribute Experience. A culmination of four former Motley Crue tribute performers, the band comes together to create a true to life representation of one of the most notorious bands in rock history. The bring scorching vocals, blistering guitar, pounding bass and thunderous drums to a live show that is the next best thing to the real thing.
Opening for The Crue is Blank-281, a Blink-182 tribute band. Blank-281 takes listeners on a nostalgic ride through Blink-182's early releases to their mainstream breakthrough and success.
Blank-281 was selected out of thousands of tribute acts across the country to appear on the Jimmy Fallon produced TV show, Clash of the Cover Bands.
Racks by the Tracks tickets will be available online Friday, March 17 at 10:00 a.m. for the 100-hour sale. Tickets will be available online and at all Food City locations beginning Monday, March 20. Individuals are encouraged to purchase early for the best pricing during the "First 100-Hour Online Sale" as prices will increase on Monday, March 20th.