Former Virginia First Lady Jinks Holton dead at 97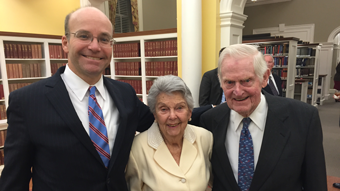 Virginia Senator Tim Kaine on Friday announced the passing of his mother-in-law and former First Lady Virginia 'Jinks' Holton at the age of 97.
Holton worked with her governor husband Linwood Holton while in Richmond on such causes as civil rights, advocacy for children, and aiding those less fortunate. Her daughter and Kaine's wife Anne served as Virginia's education secretary during the McAuliffe administration. Linwood passed away last year at the age of 98.
The statement said Jinks was known for her chocolate silk pie, her past job as a pre-CIA coordinator for American agents, and the family tradition of "A Christmas Carol" being read which Kaine said she completed last week.
(A photo featured on the official web account of the University of Virginia's Miller Center shows AXIOS founder Mike Allen with Jinks and Linwood Holton in 2015. Senator Tim Kaine's office announced the passing of Jinks on Friday at the age of 97.)