Lee's special session on public safety scheduled for August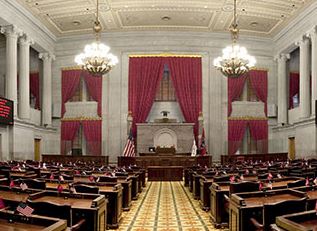 Governor Bill Lee has ordered Tennessee legislators back to Nashville for a called special session to discuss his red-flag legislation that was discarded due to time restraints this spring.
The GOP super-majority also wants provisions in Lee's proposal that protect the rights of gun owners. His plan would give judges the authority to remove weapons from people who are a threat to themselves or others.
Lee called for lawmakers to compromise on the bill after the Covenant shooting where six people including three children were shot dead on March 27.
(IMAGE: Bristol Broadcasting Archive)