Police: Abingdon woman deliberately hit victim with vehicle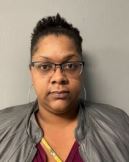 A couple arguing while vacuuming a car turned violent Tuesday in Abingdon when police said a woman struck her partner with the vehicle.
Amber Laws is charged with aggravated malicious wounding, failure to stop during an accident, and domestic assault and battery in connection to the incident at 930 West Main Street.
The victim was taken to a local hospital for further treatment.
(MUGSHOT: Abingdon PD & Southwest Virginia Regional Jail)