UPDATE: Infant released from hospital after dog partially bites ear off, removed from parents' custody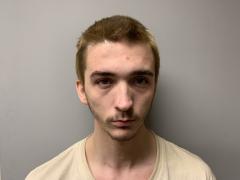 The Bristol Virginia Police Department released an update on a case involving an infant whose ear was partially bitten off by a dog. Officials say the baby has been released from the hospital after a two-day admittance, and was removed from the custody of the parents until their court hearing.
This investigation began after the child was taken to the Niswonger Children's Hospital, several hours after the incident where a dog bit off a part of the child's ear and scratched it's body all over. The parents, James Reed and Morgan Self—as well as the grandmother, Sandra Reed, were all arrested for not seeking immediate help after the incident. Morgan Self has bonded out, and James and Sandra Reed are jailed without bond. The dog was taken to the Bristol, Virginia Animal Care and Control Department.
(Image: James Reed; courtesy of Bristol, VA Police Dept.)