UPDATE: Man sent to prison for killing teen girl in Smoky Mountains Spur car crash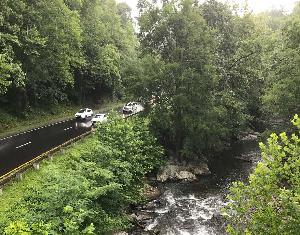 The family of a 19-year-old Ohio girl killed from injuries sustained in a crash in the Great Smoky Mountains National Park were present when the driver was sentenced to 5 years in prison.
Testimony from prosecutors in federal court said data from the automobile driven by Bryce Allen Axline, 21, showed his vehicle was fully accelerated and traveling at 90 miles per hour when he crashed into an embankment in the Spur area between Gatlinburg and Pigeon Forge in 2021.
Another teenage girl was injured in the crash and survived. Axline was intoxicated during the crash and was charged with vehicular homicide and vehicular assault.
(IMAGE: Spur Hwy / Great Smoky Mountains National Park / National Park Service)