Washington County Tennessee School Bus Accident Update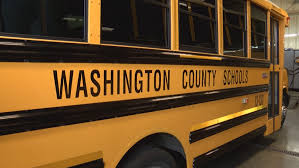 No injuries were reported after a crash involving a Washington County, Tennessee school bus and another vehicle Thursday.
Superintendent Jerry Boyd said that a Washington County School bus with three student riders was involved in a crash with a car. The crash happened in the area of Jim Ford Road and Elmer Walker Road.
The other vehicle reportedly hydroplaned while going around a curve when it hit the bus. The driver of the bus was reportedly injured, but the THP noted that he was treated and released at the scene of the crash.
Parents were notified of the crash Thursday evening.