Hickey Teen Swears His Love Life Sucks!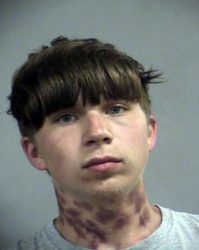 A Kentucky teenager was caught getting drunk in an abandoned building and arrested. That's not the story. The story is the staggering amount of hickeys on his neck!
18-year-old Micah Musser was arrested along with some other people, taken to jail, where he was booked and photographed. Yes, it's his hickey laden mugshot that's capturing everyone's interest.
By the way, he never said that about his love life. I made it up for cheap thrills.