The Latest Trend For Men Are Rompers??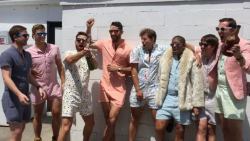 They're called "Romphims" and that's exactly what they are. Rompers for men. And, just in case you thought these weren't going to to be hit. Wrong. The Kickstarter is raking in the dollars in pre-sales.
See some hilarious tweets about the Romphims here!