Kim Kardashian Calls Out Taylor Swift For Lying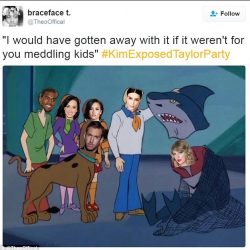 Kim Kardashian is calling out Taylor Swift. She posted a series of clips on Snapchat where Kanye talks to Taylor about the line in "Famous" that mentions her, before it came out! Now, Swift is saying that it's the line where he called her "that b***h" is what she had not been aware of. Either way, the memes and tweets about it are enough to keep you entertained.
Here's the story.
And, here's the funniest tweets, memes and posts.