WATCH: In Memoriam Of President George H. W. Bush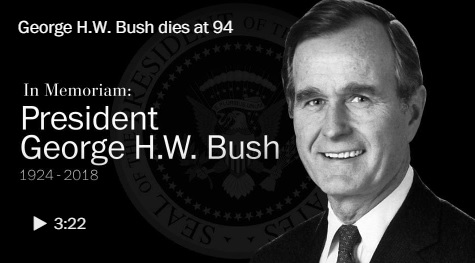 George H.W. Bush, the 41st President, passed away late Friday at the age of 94.
"Bush was a son of a senator, celebrated World War II combat pilot, student athlete, Texas oilman, Republican congressman, national party chairman, pioneering diplomat and spy chief. After his own 1980 presidential campaign came up short, he served two terms as Ronald Reagan's vice president before reaching the pinnacle of political power by winning the 1988 presidential election, soundly defeating Democrat Michael Dukakis." – CNN
The note left to incoming President Bill Clinton reveals the true heart and strength of what we all hope our Presidents to be.
Dated Jan. 20, 1993:
Dear Bill,
When I walked into this office just now I felt the same sense of wonder and respect that I felt four years ago. I know you will feel that, too.
I wish you great happiness here. I never felt the loneliness some Presidents have described.
There will be very tough times, made even more difficult by criticism you may not think is fair. I'm not a very good one to give advice; but just don't let the critics discourage you or push you off course.
You will be our President when you read this note. I wish you well. I wish your family well.
Your success now is our country's success. I am rooting hard for you.
Good luck—
George