New Bridal Trend – Puppies!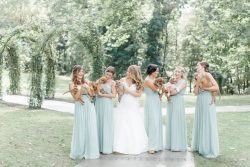 (photo Caroline Logan)
This bride and her new husband huge are animal lovers and have three rescue dogs of their own. So when they decided to get hitched, instead of bouquets of flowers, the wedding party posed with adorable puppies.
Though they weren't a part of the ceremony, the pups did get plenty of portrait time. Check out the litter of boxer-coonhound puppies who were rescued when they were just under a week old. They are now thriving in their loving foster homes – Awwwww!